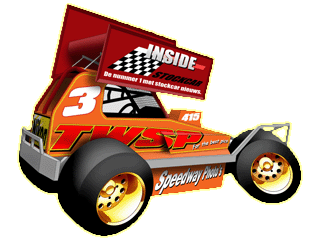 Welkom op de pagina van TWSP!
Vanaf zijn 10de jaar bezocht Tonny (TWSP) de wedstrijden in het Betuwesche Gendt. Van zijn eerste zuur verdiende geld, kocht hij in 1981 een fototoestel, waarmee hij ook zijn andere hobby ging fotografeerde. Eerst alleen voor regio rijders; zoals Harry '' De Bok'' Jeurissen en Jos Buurman. Na het behalen van het rijbewijs werd ook Baarlo bezocht. Daar werd hij de hoffotograaf van Laurens van de Velde. Naar heel wat foto gemaakt te hebben, werd Tonny een van de Speedway -fotograven van Start84. En later werd hij een van de oprichters van Oval98, wat jammer genoegd door verkeerd management geen lang leven was beschoren. Maar samen met de ASF boys richten hij het stockcar nieuwsbrief '' Inside Stockcar'' op. En naar 25 jaar fotograferen nu zijn eigen site, maar ook op vele speedway sites zijn de foto van TWSP terug te vinden. Door hard werken, en het streven naar een steeds hoger niveau , is Tonny een van de leidend fotograven geworden binnen de speedwaywereld. Door zijn drive is hij ook zeer bekend geworden in Amerika en Engeland , en heeft hij daar zijn naam ook daar gevestigd als TWSP. De TWSP staat voor: Tonny Wissing Speedway Photo's.


---
Welcome at the page of TWSP!
Since he was 10 years old, Tonny (TWSP) visited the races in Gendt located in the Betuwe, Netherlands. With his first earned money he bought in 1981 his first photo camera. With this camera he started his hobby of making photo's. He started of with the regional drivers as Harry "De Bok" Jeurissen and Jos Buurman. After he received his drivers licence, Baarlo came in his vision as well. There he became the main photographer of Laurens van de Velde. After taking a lot of photo's, Tonny became one of the photographers of Start84. Later on he became on of the founders of Oval98, which did not last long because of wrong management. Together with the people of ASF he started a stockcar newsletter called "Inside Stockcar". After 25 years, he takes the step to his own website, but on a lot of other speedway sites his photo's can be found. By doing a lot of hard work, and reaching out for a higher level, Tonny became one of the leading photographers of the world of Speedway. Because of this drive, he became famous in the USA and England as well. So he settled the name of TWSP there as well. As last, TWSP stands for: Tonny Wissing Speedway Photo's